Events and news from Ian C Douglas, the author and writer. Find out the latest in the world of Ian C Douglas and the details for his upcoming events and appearances.
Middleway Words features five days of free events, celebrating great books from the Midlands. It begins with an author-led panels. Sessions follow for adults and children on writing fiction and poetry. Regional authors answer questions about their books and writing. There are talks from a literary agent, a publisher, a book-seller and a library about their roles in the book business. The closing panel looks at types of writing, including script, translation, education and theatre narrative. Short videos from our authors air during the Festival. This week promises a new chapter to the Midlands tradition for great writing. FOR MORE DETAILS, PLEASE CONTACT:
Ignaty Dyakov-Richmond: Festival co-founder, co-chair of Society of Authors Warwickshire. Email: middlewaywords@gmail.com
Roundup Roundup! Join us for an evening of talks, performances and exclusive readings. We're celebrating all the things our creative community has achieved this year as well as look ahead to a more fruitful 2021
delighted to be running this workshop at NWS, see link for more info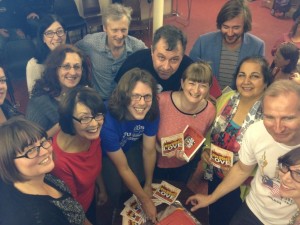 And for more on Zeke Hailey , click here.