Books by author and writer Ian C Douglas.
The Infinity Trap
How far would you go to save your father? For 14-year-old Zeke Hailey, even Mars is not too far. An ordinary boy, he bluffs his way into a Martian psychic school. Mind-reading teachers and psychokinetic bullies are the least of his worries. A ruthless archaeologist is seeking the Infinity Trap, lair to an ancient evil. When the Martian language is downloaded into Zeke's brain, he alone understands the apocalyptic danger about to be unleashed.
Download a sample chapter: Here
Gravity's Eye
Gravity has a secret, a secret that will mean the end of everything. A prehistoric robot is out to kill Zeke Hailey. But the greatest danger comes from his new friend, Fitch Crawly. Fitch has phenomenal mind control skills, and is hunting for the key to bending atoms. Zeke betrays his friends and accompanies Fitch in search of Gravity's Eye. They discover the terrible secret of the Beagle Station and Zeke is left for dead. Can he survive and save the Universe from the oldest enemy of all?
Download a sample chapter: Here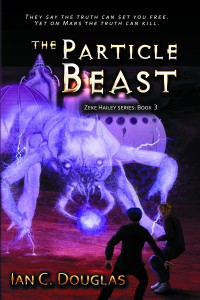 The Particle Beast
Run! The monster is out! Zeke Hailey is happy enough at his psychic school, until a secret throws his life into chaos. Now, Zeke must choose between his friends and his missing father. Mars, however, isn't ready to let him go. Famous translator Doctor Enki needs Zeke's ability to speak Martian to uncover an ancient alien city. A hideous monster lurks in this Martian ghost town. But more dangers are waiting than just the monster. Zeke must defeat his greatest enemy before the fabric of time and space unravels forever…
Download a sample chapter: Here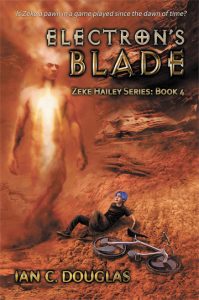 Electron's Blade
War breaks out on Mars. As bombs explode and fatalities mount, one boy can bring peace to the 'Little Pumpkin'. Zeke alone can solve the riddle of Electron's Blade. This ancient relic has the powers to save everyone. Or does it? Zeke must decide who to trust. With Pin-mei no longer his friend, and the school in chaos, will he chose the ultimate sacrifice?
Download a sample chapter: Here
The Paradox War
Mars has fallen and Earth is next. Nobody can stop the Spiral. Least of all Zeke Hailey, on a far-flung moon, resurrected but his memory wiped clean. Never has Zeke more needed his best friend, but Scuff Barnum is gone. Hurled billions of years back in time, Scuff is trapped in a fiery apocalypse. And even if Zeke recovers, what chance has he of saving the universe?
Download a sample chapter: Here
Non-fiction
The Children's History of Nottinghamshire
The Children's History of Nottinghamshire is a unique non-fiction book supporting the National Curriculum while focusing on local history. Illustrated with cartoons, photos and fun facts, the book takes children through Nottinghamshire's journey from early cave-dwelling communities to the 21st century. Along the way there are plenty of battles, riots and executions! Learn about the Roman ghost town of Margidunum. Discover how Vikings conquered the County. Read of King John's dark deeds at Nottingham Castle. Go down a Nottinghamshire mine with child labourers. Relive the night the people of Nottingham burned down the Duke's residence.SOLD OUT
Anthologies
Beware the Bugs
Beware the Bugs! assembles an international crew of acclaimed authors to bring you a kid-friendly collection of twenty-one terrific tales of behemoth beetles, astonishing arachnids, monstrous millipedes, and atomic ants! A must-read book for all lovers of creepy, crawly chaos!
Curiosities #7 Quarantine
Curiosities returns with new steampunk stories of mysterious machines, curios contraptions, mannerly magicks, a heroic noveltrix, and tea. Ever so much tea.
Each story has been illustrated with vintage engraving collages by Martini Discovolante. Ian's tale 'Mary Shelley and the Ghoul of St Pancras' reveals Mary's life as a fighter of monsters.
Leading Edge Issue 82
Ian uses his pen name of Lewis Nickes for this tale of an old man and his grandson hunting for a mermaid, while grappling with the ethical implications, joins 5 other gripping tales in issue 82 from Leading Edge.
A Clockwork Iris
Another gripping collection of SF tales about Iris Wildthyme, the lady timelord long before it was fashionable. Originally a character in the Dr Who spin-off universe, Iris graduated to her own adventures, with her trusty companion, Panda. In this volume, Iris enters her steampunk phase. Ian's contribution, Rattus Erectus, is a Victorian whodunnit with nods to Dr. Jekyll, Darwin and James Watt, both touching and funny.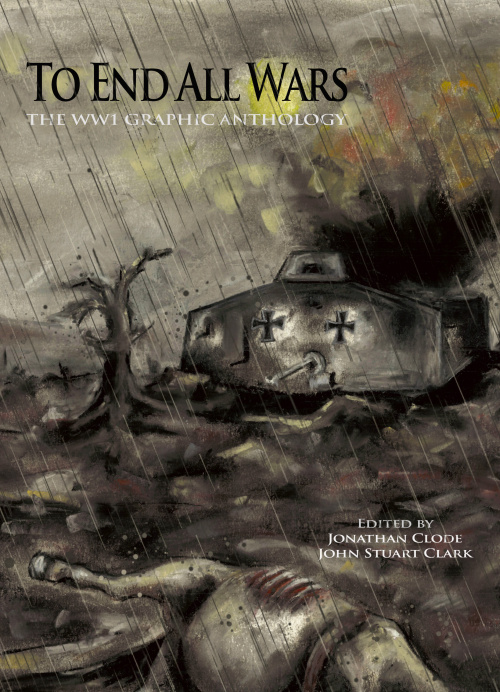 To End All Wars
This twice Eisner-nominated anthology of graphic stories commemorates the World War One centenary and includes Ian's haunting 'Dead in the Water'. As seen in the Guardian.
Roam Alone
Ian is also a prize-winning travel writer, after working for 12 years in East Asia. To this collection of true-life anecdotes, Ian adds his trek to the hill tribes in remote Northern Thailand back in 1991. In the foreword, famed BBC news presenter Jan Leeming says Ian's adventure in the rainforests made her cry.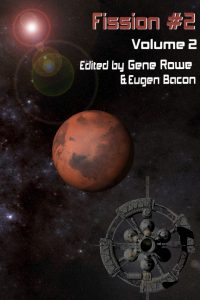 Fission #2 Volume 2

The British Science Fiction Association's flagship magazine is back with more incredible stories, including Ian's Charles Darwin and the South Seas Monster.